DESSERTS GALORE
---
The Apple Barvarian Torte(★ ★ ★ ★ ★)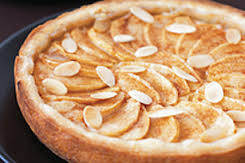 Enjoy a marvelous, delicious, class Apple Barvarian Torte baked within a springform pan.
INGREDIENTS
1/2 cup butter
1/3 cup white sugar
1/4 teaspoon vanilla extract
1 cup all-purpse flour
1 (8 ounce) package cream cheese
1/4 cup white sugar
1/2 teaspoon vanhilla extract
6 apples-peeled, cored, and sliced
1/2 teaspoon ground cinnamon
1/4 cup sliced almonds
Directions
Preheat oven to 450 ℉ (230 ℃).
Cream together butter, sugar, vanilla, and flour.
Press crust mixture into the flat bottom of a 9-inch springform pan. Set aside.
In a medium bowl, blend cream cheese and sugar. Beat in egg and vanilla. Poor cheese mixture over crust.
Toss apples with sugar and cinnamon. spread apple mixture over all.
Bake for 10 minutes. Reduce heat to 400 ℉ (200 ℃) and continue baking for 25 minutes.
Sprinkle almonds over the torte. Continue baking until lightly brown. Cool before removing the pan.
Reviews(★ ★ ★ ★ ★)
Delicious!! I recommend microwaving the apples for 3 minutes before baking, to soften them. Great Dessert-I''' be making it again for the holidays. -Reviewed on August 28,2014 by BBABS
For More information Visit anyone of the following sites.
Food.com
Yummly.com